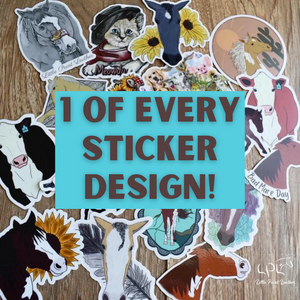 Yep you read that right! One of every single sticker design we offer! We have over 70 designs right now. Price will go up as we add more designs. 
You will be getting one of each of the designs you see here
These stickers are approximately 3" at the longest point, widths will vary from sticker to sticker. They are made from durable printed vinyl that resists scratching, sunlight and water.
These stickers were all hand drawn/designed by us and printed/die cut in the USA!